1 Timothy 2

 (NASB)
A Call to Prayer
2 First of all, then, I urge that entreaties and prayers, petitions and thanksgivings, be made on behalf of all men, 2 for kings and all who are in [a]authority, so that we may lead a tranquil and quiet life in all godliness and [b]dignity. 3 This is good and acceptable in the sight of God our Savior, 4 who desires all men to be saved and to come to the [c]knowledge of the truth. 5 For there is one God, and one mediator also between God and men, the man Christ Jesus,
This is the verse read at President Trump's inaugeration, and then preached powerfully at the national prayer breakfast by Rear Admiral Barry Black (Ret), Senate Chaplain – https://www.youtube.com/watch?v=Kr9sCtJ61_8
The Enemy's attack against this administration is relentless!  As we discussed in our Thursday meeting recently, a postcard attack against President Trump is planned for the White House for March 15, which is the Ides of March.  This attack of pink post cards is to commemorate the assassination of Julius Caesar on March 15 in 44 B.C.!!!  It is to tell Donald Trump that he is fired and that they have assassination in mind if he doesn't leave the Presidency!!!
But greater is He that is in us than he that is in the world, and we can do a preemptive counter attack by praying and also by sending our own postcards of support, prayer, and love to the White House!  I've got to mine ready to mail later today!  How about all of you Battle Cry warriors???  Let's join our fellow believers in this regard:
"
Starting Now through 

March 14

– Let's Flood the White House
With Post Cards of Prayer!
"
by Jane Hansen Hoyt, Edmonds, WA
"A Call to Action! Starting Now through

March 14

– Let's Flood the White House With Post Cards of Prayer!"
We know that we walk as Esthers in the earth. We know that since the beginning, women function under a mandate that exposes every evil plot of the enemy. 
While we were in DC recently, we learned of such a hideous plot called the Ides of March that has a dedicated Facebook page.
Those currently involved in resisting the new administration have targeted March 15th as a day to send President Trump a postcard expressing their opposition to him. Their plan is to overwhelm him with pink postcards symbolic of the pink slip that a person is given when fired. They plan to overwhelm the postal service by sending cards that contain hate-filled messages. Such as, Sharpen your wit, unsheathe your writing implements, and see if your sincerest ill-wishes can pierce Donald's famously thin skin.
Queen Esther wrote a new decree that trumped the one previously written.
I am asking you to begin sending in postcards to President Trump that simply say, "I am praying for you."
President Trump said those were the most meaningful words that he heard while on the campaign trail. And with the current atmosphere of chaos and insanity in our nation, I want him to know that there is a worldwide army that is supporting him in prayer.
I ask that you share this opportunity with your friends, your family, at your workplace, and with your church.
Start NOW sending your cards of support, but also – let us all send one on

March 14th

(the day before) to counter the Ides of March plot.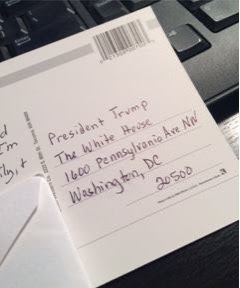 The address to send your post cards is:
President Donald J. Trump
The White House
1600 Pennsylvania Ave NW
Washington, DC 20500
The Word of God tells us that we are to pray for all those in authority. I'm asking you to lay aside your personal, political views and join together for the good of our nation.
Let's counter the hate with grace and love. Let's flood Heaven with prayer and the White House with cards and letters for such a time as this!